Windham Hill in Concert
---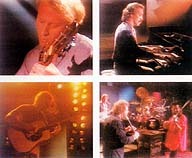 Laserdisc and VHS released 1986, Windham Hill/Laserdisc Corp. PS-87-014
DVD released April 23, 2002, Pioneer Artists

This concert video features performances by Will Ackerman, Michael Hedges, Scott Cossu, and Shadowfax. Michael's contributions include:
Silent Anticipations
Woman of the World *
Because It's There
Follow Through **
Aerial Boundaries
* The audio from this performance of "Woman of the World" is included on Live on the Double Planet.
** Michael's pounding solo performance of "Follow Through" is an entirely different arrangement than the studio version on The Road to Return.
The primary video and audio for this project were recorded in July 1986, at SIR Soundstage in Los Angeles, CA. Additional video footage was shot at Red Rocks Amphitheater, near Denver, CO.
Complete DVD contents:
Chapters
Side #1 --
Intro: Guitar (From "Aerial Boundaries") - Composed and Performed by Michael Hedges [3:59]
The Impending Death of the Virgin Spirit - Composed and Performed by William Ackerman [5:05]
Visiting - Composed and Performed by William Ackerman [5:10]
The Bricklayer's Beautiful Daughter - Composed and Performed by William Ackerman [4:12]
Silent Anticipations - Composed and Performed by Michael Hedges [2:58]
Woman of the World - Composed and Performed by Michael Hedges [4:39]
Because It's There - Composed and Performed by Michael Hedges [4:23]
Follow Through - Composed and Performed by Michael Hedges [3:23]
Aerial Boundaries - Composed and Performed by Michael Hedges [5:27]
Vashon Poem - Composed and Performed by Scott Cossu [6:21]
The Orangutan Gang (Strikes Back) - Composed by David Lewis, Performed by Shadowfax [3:51]
What Goes Around - Composed by G. E. Stinson, Performed by Shadowfax [4:20]
New Electric India - Composed by G. E. Stinson, Performed by Shadowfax [5:59]
Streetnoise - Composed by Chuck Greenberg, Performed by Shadowfax [4:29]
Closing Credits: Because It's There - Composed and Performed by Michael Hedges [3:03]
Menu Options

Side #1 --
Play Concert
Song Selection
Audio Set Up
5.1 Dolby Digital Surround
PCM Stereo
Special Features
William Ackerman Bio
Michael Hedges Bio
Scott Cossu Bio
Shadowfax Bio
Production Notes
---
---