The Artist's Profile: Michael Hedges
---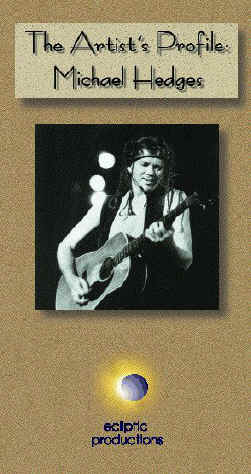 Item APMH-VID, $30; PAL version $35
In December, 1998, local PBS-TV affiliates began airing a newly updated version of The Artist's Profile: Michael Hedges, a moving video documentary that remembers Hedges through his own words intertwined with rare concert footage from a 1996 outdoor concert with bassist Michael Manring in a beautiful and intimate setting on the shore of Lake Tahoe.
Extended 1-Hour Home Video Edition Now Available
Introduced in January, 1999, a one-hour home video edition of The Artist's Profile: Michael Hedges, available only by mail-order, offered a unique opportunity to see and hear Hedges talk about life and death, his explorations into chi kung, and his views on creativity and inspiration, among other topics. (Replaced the previously available 30-minute tape.) Performances of the following songs are included:
Jitterboogie
Ritual Dance
Baal T'shuvah
Face Yourself [w/ Michael Manring]
Dirge [w/ Michael Manring]
The Enormous Room [by Michael Manring]
Ignition [w/ Michael Manring]
Rough Wind In Oklahoma [w/ Michael Manring]
Jabberwocky [w/ Michael Manring]
Oracle *
Like a Rolling Stone
Ragamuffin
* This uptempo and groovy acoustic guitar solo was originally called "Fusion of the Five Elements", and an arrangement appears on "Torched" under that title. However, neither bears much resemblance to the slower, multi-instrumental "Oracle", which grew out of this solo to become the title track of Michael's Grammy-winning 1996 album.
Click here for ORDERING INFORMATION.
---




Also available here, from the Artist's Profile series:
The Artist's Profile: Michael Manring
« Previous Video | Discography |
---