Michael Hedges: Santabear's First Christmas
---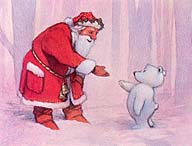 1986, Windham Hill WD-0700, currently out of print.
Michael Hedges' musical score for a 1986 Rabbit Ears children's video narrated by Kelly McGillis (Rabbit Ears Productions/Children's Video Library catalog #5390). The score includes some selections that are unique to this project: track 2 (an instrumental version of "Ready or Not"), and tracks 5 and 6.
Michael Hedges: acoustic guitar, harp-guitar, acoustic bass guitar, flute
Santabear's First Christmas (narration with music)
Ready or Not (instrumental; vocal version appears on Live on the Double Planet)
The Double Planet
Eleven Small Cubs *
Larry's Instrumental
Carol Jean
* "Eleven Small Cubs" is a re-recording of "Eleven Small Roaches" from Breakfast in the Field.
Produced by Michael Hedges and Mark Sottnick.
Recorded at Different Fur Recording, San Francisco, CA.
---
« Previous Soundtrack | Discography | Following Soundtrack »
---