Michael Hedges: Watching My Life Go By
---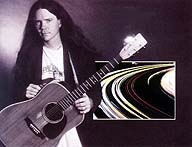 1985, Open Air OD-030 (click for ordering info)
An intimate vocal collection whose lush sound belies the simplicity of its instrumentation. Meticulously produced by long-time Neil Young collaborator Elliot Mazer, with guests Bobby McFerrin and Michael Manring, this CD was recently featured as part of the "Essential Windham Hill" collection.
Michael Hedges: vocals, acoustic guitar, bass, flute, synthesizer, harmonica, wine glasses
° Michael Manring: fretless bass
¹ John Hanes: drums
² Bobby McFerrin: chant and solo vocals
³ Hilleary Burgess: wine glasses
Face Yourself °
I'm Coming Home
Woman of the World
Watching My Life Go By
I Want You ° ¹
The Streamlined Man ²
Out on the Parkway ° ³
Holiday
All Along the Watchtower
Running Blind
All songs written and arranged by Michael Hedges except "All Along the Watchtower" by Bob Dylan.
Produced by Elliot Mazer.

Recorded at Naked Ear, Palo Alto, CA.
---
« Previous Solo Release | Discography | Following Solo Release »
---