Torched Press Reviews
---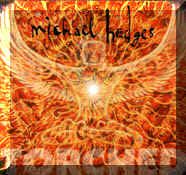 Tulsa World
Enid guitarist gone but hardly forgotten
Michael Hedges' Torched from Windham Hill Records
Review by Thomas Conner
The album of unfinished work from a recently deceased musician is now inevitable. In the case of Enid native Hedges, who died in a car accident late in 1997, the posthumous record is bittersweet not only because of it reminds us of the immense void his death leaves in the field of acoustic music but because the songs that make up Torched (his title) might have clinched his status as a singer-songwriter. Always considered a fringe benefit to his unparalleled finesse on the acoustic guitar, Hedges' sonorous voice usually was noticed only when he reinvented the obvious in covers ranging from Dylan's All Along the Watchtower to Prince's Kiss. Torched pushes this to the forefront, and the result will be captivating for those with the patience for his lyrical archetypes and sometimes laborious New Age sentiment. The compositional mastery that directed all of his instrumental work, though, deftly shapes these song demos, namely the title tune and Promised Land. Spring Buds is the most beautiful leftover-- a song written for Crosby, Stills and Nash, to which Graham Nash and David Crosby added harmony vocals after Hedges' death. A shimmering epitaph.
---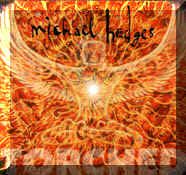 Maui Scene
The tragic loss of one gifted artist and the auspicious debut of another
Torched, Michael Hedges, Windham Hill
We lost a brilliant musician in late 1997 when Michael hedges died in a tragic car crash. While he was categorized as a "new age" artist, this pioneering guitarist transcended this limiting genre with a dazzling combination of innovative technique, daring experimentation, and fervent, passionate playing. Unlike most guitarists, who fret with the left hand while strumming or picking the strings with the right, Hedges often would place both hands on the neck, tapping the strings as if he were playing piano. Defying categorization, over the years, he jokingly described his approach as "violent acoustic," "heavy mental," "acoustic thrash," "new edge," and "edgy pastoral." We now have one more opportunity to revel in this virtuoso's music with the release of Torched, compiled from a rough mix of what would have been his next album. Even tough some songs were not considered "finished," it all feels complete. Focusing primarily on his vocal compositions, a number of songs on this new work sound similar to the folk-pop territory explored by Crosby, Stills and Nash. In fact, Crosby and Nash team with Hedges on the plaintive ballad "Spring Buds." An amazing multi-instrumentalist, he basically plays everything on the album. And throughout, there are many moving moments, and some extraordinarily beautiful compositions such as the instrumental "Fusion of the Five Elements" and "Dream Beach" that bring tears to this reviewer's eyes. Hedges talked about aspiring to a state of being "on fire" with an all-consuming creative life-energy. This spirit of mystical passion is definitely evident on Torched.
- Jon Woodhouse, for the Maui News
---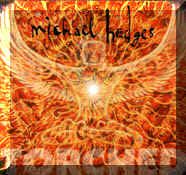 Music Row
Nashville, Tennessee
March 23, 1999
This posthumous release is, quite simply, extraordinary. Hedges died in a late 1997 automobile accident and left behind this set, arranged in the sequence we're given, as a sketch of the album he intended to call Torched. Executive producer Hilleary Burgess and the label's Larry Hamby chose to present the material herein just as Hedges left them, with one exception. Hedges had sent "Spring Buds" to his pals David Crosby and Graham Nash for possible inclusion on their next CSN album, and had also asked them to sing harmonies for his own recording of the song. Nearly a year after Hedges' death, Crosby and Nash met at Jackson Browne's studio in Santa Monica to grant that wish. It's breathtaking. And whelk I deign to make such musings, this beautiful collection-- typical from this gifted artist-- is so spiritual in nature, both lyrically and musically, one can't help but wonder if Hedges was mindful this would be his final gift to us. It helps when you know, too, that "torched" was a noun of hedges own invention used to describe a state of heightened physical/spiritual awareness to which he aspired; a state of being "on fire" with an all-consuming creative life energy. That noted, this stunning record is aptly named.
---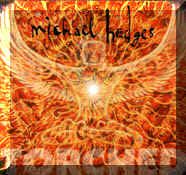 Jazziz
July, 1999

Michael Hedges once told writer John Stropes, "If anyone wants to lock me into the guitar pigeonhole, I'll make like a pigeon and crap on their windowsill." While Hedges brought a new sonic architecture to the acoustic guitar that stunned even his fellow guitarists, he also loved to sing. The posthumously released Torched presents the late, much-loved musician in both roles, with moving results. In progress at the time of his 1997 death from a car accident, these tracks are largely unfinished home recordings of Hedges'. In many cases though, Torched presents realized compositions, not just promising sketches; a clarity of purpose is communicated that feels whole. Many of the 14 tunes reveal what must have been a tremendous amount of work on Hedges' part. There are beautiful, overdubbed vocal harmonies on "Rough Wind in Oklahoma" and "The Holy Flame," wonderful keyboard coloration on "Sapphire," and, on "Ursa Major," a mix of gentle chords, harmonics, and sampled wind that sounds like Redwood trees strung with guitar wires, resonating in the breeze. With the sinewy power of his guitar and the direct appeal of his singing, Hedges also put grit into a singer/songwriter genre (for lack of a better term, let's call it sensitive, mystical folk) that's often characterized by a fey superficiality. He had the ability to frame emotions so they glowed with both sophisticated intelligence and primal passion, and his lyrics offered a penetrating vision that struck at the heart of meaning. This guy was truly tuned into something else.

--by Larry Nai. Copyright 1999 Milor Entertainment, Inc.
---