Michael Hedges: Taproot
---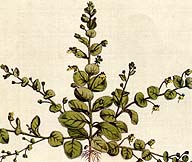 1990, Windham Hill WD-1093
1991 Grammy Award Nominee, "Best New Age Album"
Conceived as an "autobiographical myth told in music, Taproot offers twelve "pixyish instrumental journeys, with often ingenious arrangements, pristine instrumentation and pleasing melodies" (BAM Magazine). The final track (13) is the lone vocal, a spellbinding setting of an E. E. Cummings poem with soaring background vocals from Hedges pals David Crosby and Graham Nash.
"Utterly gripping" (Musician Magazine).
"Amazing, engaging, mystical" (Detroit Monthly).
Michael Hedges: acoustic guitar, savage myth guitar, tin whistle, keyboards, bass, TransTrem™ guitar, harp-guitar, percussion, flute, vocals
° Michael Manring: fretless bass
¹ Mike Moore: clarinet, bass clarinet, saxophone
² Bryan Lanser: percussion
³ David Crosby and Graham Nash: background vocals
The Naked Stalk
The Jealous Tunnel/About Face ²
The Jade Stalk ¹
Nomad Land ¹
Point A
Chava's Song
Ritual Dance
Scenes (on the road to Shrub 2) ¹
The First Cutting ²
Point B
Song of the Spirit Farmer
The Rootwitch
i carry your heart ° ³
All compositions by Michael Hedges. "Song of the Spirit Farmer" arranged by E. J. Ulrich. Lyrics to "i carry your heart" by e. e. cummings.
Produced, recorded (mostly), and mixed by Michael Hedges at the Speech & Hearing Clinic, Mendocino, CA.
---
« Previous Solo Release | Discography | Following Solo Release »
---