Michael Hedges: Oracle
---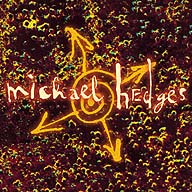 1996, Windham Hill #01934-11196-2
1998 Grammy Award winner, "Best New Age Album".
Oracle marked Michael's return to "the sound that made Hedges a hero to the acoustic guitar set" (Pulse). The hand-made guitar on which Michael had written much of the music for his first album was stolen in 1982 at a show he'd opened for the Jerry Garcia Band. Mysteriously returned in late 1995, some thirteen years later, it helped inspire this acoustic-guitar-laden collection of brand-new Hedges instrumentals, plus one each from Frank Zappa, Henry Mancini, and the Beatles.
Michael Hedges: acoustic guitars, bass, harp-guitar, synthesizers, alto flute, harmonica, and vocals on "Tomorrow Never Knows".
Michael Manring: fretless bass *
Ignition *
Dirge *
Oracle
Gospel *
Tomorrow Never Knows *
Theme from Hatari!
Aura Müünta
Jitterboogie (family version)
Sofa #1
When I was 4
+ What Child is This? (a.k.a. Greensleeves; unlisted track)
The last track was intentionally left off the liner notes. It was originally recorded for The Windham Hill sampler Carols of Christmas, but Michael surreptitiously included it on Oracle as well so hard-core fans wouldn't feel compelled to buy the compilation just for his contribution.
---
« Previous Solo Release | Discography | Following Solo Release »
---